December 30, 2017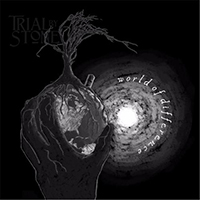 In the energetic manner, the mid-tempo composition Meant to Be begins Trial by Stone - World of Difference album, pumping up the emotional mood with the vocal to complete the verses.
Mysterious instrumental passages and vocal phrases begins to develop an idea that will find further display in the album. Thoughtful vocal speeches in The Way chorus are forced to think about the correctness of the chosen path.
A certain romantic atmosphere is poured around vocal phrases into the introduction, then Heaven Help Me music gains power, not rushing into an unrestrained stream of drive and not rejecting romantic motifs all the way to the chorus.
Anxiety and emotions overwhelms the How Do We Survive music to the brim, the vocal party rushes in a whirlwind of experiences.
The Simplify main motive immediately and unobtrusively accompanies the musical path, without weakening control for a moment.
Perhaps, the most vivid and memorable composition from the whole album, leaving the most significant impressions and sensations. Way of the World начинается словно загадочная баллада, затем развивая мелодику основного мотива взметает инструментальные пассажи и эмоции в сраднем темпе. Это трудно описать - но явно стоит прослушать!
Resting after a very interesting and diverse musical action, a sonorous ballad Let Me Go creates a solid basis for future experiences. At the end, the composition sweeps a light wave of drive.
After energetic and zealous throwing in search of fair and correct decisions in music, doubts overwhelms us, enveloping powerful rhythmic musical feedings See the Light with whirlwinds of experiences and vague apprehensions.
Again energetic, youthful and ingenuous composition Who Am I precedes a thoughtful introduction Maybe Tomorrow, which, however, develops further in the same unsophisticated youth stylistics.
So romantic Shes Waitingintroduction sounds like a ballad, but no - it's just a preparation for the final composition. After vigorous versatile zeals, romantic ballad The Lost and Forsaken completes the album with a whirlwind of feelings.