July 03, 2019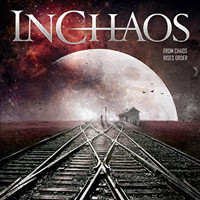 Epic motifs and echoes of ancient fairy tales envelop the A Day to Remember vocals part with mysterious trends, starting the In Chaos - From Chaos Rises Order album with a fascinating atmosphere of intriguing mystery.
The musical flow of the main motive is riding along the chosen path, vocal phrases in a couplet create intrigue, elevating and accenting the title of the Deadhead song in the chorus.
A wave of restrained drive lifts the guitar solo into the Drop Zone intro, then the verse sets a gloomy intrigue, weaving lace of fascinating sacrament and anticipating the epic charm of the chorus with a medieval march of the bridge.
Romantic ballad Hide is creating a mysterious atmosphere, harboring from fear and experiences continues the musical canvas of the album. Then guitar passages comes to the forefront, forcing fascinating whirlwinds in their breaks, In Hell vocals phrases follows the direction indicated by musical trends. Then the music becomes more viscous, progressive and mysterious, enveloping the Misunderstand vocals with gloomy laces of guitar breaks.
Musical passages twist the vocals phrases into a tunnel of enchanting whirlwinds, creating an enchanting lace of the Mystery of Darkness main motive. Then the mid-tempo composition continues the musical creation with a stern march, turning in bridges and choruses into fascinating trends of the Snake Eyes solemn anthem.
The turns of the ancient legends envelops the Walk with the Beast musical parts with fascinating covers of epic mysteries, in the instrumental passages sparkles of progressive influences flicker and vocal phrases complement one song with a vortex of emotions and experiences. World War III completes the album with gloomy waves of a mid-tempo drive, expanding the stylistic framework of a musical artwork.