June 04, 2018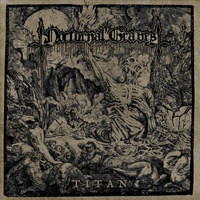 The heavy gloomy covers envelop the perception with so obscure haze of Resistance intro, from time to time rushing through the musical shroud with swift jerks, ending with a solemn march, which will eventually create the basis for the epic legends of the vocal part Vague mist of mysterious twilight ends the Nocturnal Graves - Titan album's first song.
Fury and anger are embodied in an unrestrained Roar of the Wild drive that inexorably blows through the terrible ghosts of an abandoned wasteland, enveloping harsh vocal phrases with a whirlwind of musical passages.
Mysterious motifs weave in echoes of ancient traditions, creating solemn garments for the epic tales of the Ecdysis, Shedding Weak Flesh vocal part, embodying the unhurried and unconditional significance of ancient legends.
The Souls Tribulation leitmotif is clouded by the vocal part and muzykalnymi shades that fill it, then a short musical break introduces romantic notes. But it returns again and again!
Slow musical musings of the And Hell Followed Them intro are carried away in the rampant streams of musical rabies, combined with deep vocal phrases in a mysterious frenzy, as if restraining from uncontrolled impetuosity by viscous mystery.
Entangling with stiff strings in gloomy illusions, the music fascinates with a viscous melody into the Bow Before None introduction, but anxious desires precede a pulsating march. But the vocals complementing the stringent musical narrative do not hurry up the tempo, supplementing the pulsating musical motifs. But the wave of drive nevertheless manifests itself in the middle of the composition, ending with the gloomy majesty of the guitar solo.
Short doubts in the Silence the Martyrs introduction are completed by the power and drive that weave in the marvelous dance, taking away in the formed lace to the enchanted fog of an epic fairy tale.
The title track Titan completes the album beginning with a leisurely gathering of restrained motives, continuing with a pulsating procession of rhythmic rolls. But gloomy ghosts obscure the vocal narrative enveloping vocal narration, enveloping words and phrases into so dark and cryptic garments, supplementing the musical image with more and more mysterious shades.