May 01, 2018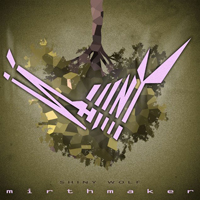 Restrained intriguing Finite Fauna (Ft. Casey Sabol) meditations in a viscous haze hampering sharp movements of thoughts are carried away at the beginning of the Shiny Wolf - This Is Glue album in fascinating meditations, supplementing with a wave of romanticism in the choruses, then returning again to the discussion of the right path, enveloped in melodious guitar passages.
Scrabbling a bright drive in the introduction, Valor 4 then pulls it down with rhythmic restrictions, from time to time carried away to dreamy meditations, as if having abandoned the surrounding events, indulging in dreamy reasoning. In the choruses a bright wave of impressive sound rises, culminating in a progressive break and a meditative atmosphere.
By driving powerful rhythmic waves into the R Mirthmaker introduction, the vocals tekes to the spaces of illusory castles, incorporeal princesses and invisible crews to the transcendental lands, building illusory dreams with progressive tones in the inspired narrative, introducing sensuality and tenderness with sparkling notes of vocal changes.
Complex, bright and sparkling melodic motifs of the Lakeside introduction are mesmerizing with their sound, vocals with a guitar buzz against the background distract from this melodism, then returning it for a while back. But then, in a hard and furious drive, it comes to the forefront of the narrative, supplementing the progressive musical palette with shades of doubt and nervousness.
Playful and jocular moments call for the inspiration of their musical origins, then the vocals goes into a gentle narration, gently wrapping Second Nature (Ft. Gustavo Assis-Brasil) in sensual phrases, enveloping in meditative restraint, combining all this with artistic and soft musical accompaniment.
Cosmogenetic and futuristic moments are so progressively intertwined in a very exciting You Once Were Beautiful introduction, then the vocals push them back with their party a little, but they come back in the instrumental bridge again. Then these alternations acquire a fascinating property, distracting with a brief splash of drive, but equally charmingly complete the album.