May 08, 2021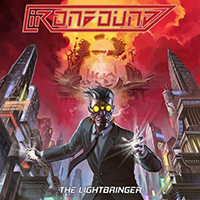 The Far Away introduction of the Ironbound - The Lightbringer album is inserted by the instrumental greatness of the epic symphony, which anticorates the development of vocal emotionality into the sound of The Witch Hunt composition, combining the vocal origins of musical artistry and the rapid drive of musical variations. Specifying the intriguing premonitions of the bright guitar solo, the When Eagles Fly song then fascinates the listener in the rapid flight of musical fantasy.
Bass solo is intertwined in a lace with guitar solo and vocal inspiration, starting the Smoke and Mirrors as an inspirational ballade then accelerating the musical passengers in the sparse vortex drive with vocal ascension. The Lightbringer title track immediately spins bright and sparkling covers of the main motive, enveloping vocal phrases with these exciting passages into the realm of dreamy premonitions.
Bright guitar solo anticipates the mid-tempo Children Left by God epic tale, rolling the musical canvas of heroic saga.
The Turn of the Tide romantic ballad starts with a soft chime of guitar solo, then combining guitar charm with vocals inspiration. Accelerating the musical stream in a restrained whirlwind of the exciting drive, the Light Up the Skies song is crowned with sparkling banners of vocals phrases. The Beyond the Horizon completes the album with melodic passages, complemented by emotional instrumental brightness.