August 14, 2016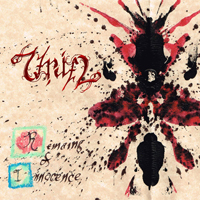 The court, the jury is given the verdict - Uriel - Remains Of Innocence !
Thinking, thoughtful passages begins Agonistes Gives Again, females ladies chants cntinues as well, further forwards with emotional impulse within the unassigned burst.
Clink-clank! Wage Of Reason continues with the combination of the male screaming and clear opera-styly female voice. That combination overrides us with the undefinite powers.
Powerful tight, emotional unchained Falling Angel, next growl screaming its wrights. But lady can't give its fourth for everyone.
Dwelling Perversity - dense emotions cut nerves, resembling bounded soldiers, that pressed their chains to understand their impulses in order to avoid angry eruptions.
Notes stem like a waterfall of thoughts, dethroning gentle female and malescreaming into Black & White, where male screaming and growling combines, and lady's voice overcome that possession.
Gentle meditative Abstract Me pops through their notes for all of our thoughts, combine its furious burst wth gentle submind impulses.
Fiddle elevates its thoughts toward heaven, questioned the fortress of all buildings with the doubts of the Architect Of Denial. Female vocals aims more questions on which there is no one to answer ... but someone will answer!
Spite, rage, anger! Strike ! Break ! Born From Regrets combines angry male vocals and inspiring tunes reunion of the female vocals. Fiddle hels that lady a lot as well!
Fiddle and other instruments exalt female vocals on the laurels of its passages within Remains Of Innocence, then male scream/growl try to go forth, but that affort no the best one!
Piano tenderly picks notes, violin tightens its passages to the impulses within Dies Irae, female and male vocals can't trend - who's the most suspicious of that done!
Walking Away we are moving, we go away - our replacement comes soon. We are leaving not yet - listening of all of that will submit the sign!