February 17, 2017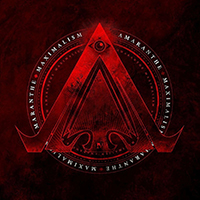 Three voices constitute the trinity - Amaranthe - Maximalism tries to combine toughness of metal armor with the charm of popular tunes!
Without any delay, the title track Maximize begins the album with dance rhythms, swirling in the wind gusts of driving music with a touch of romantic feelings, which is embodied in the gentle female vocal phrases.
Title Boomerang is persistent... flying away and returning, over and over again. Then throbbing pulse of male and female vocals combine their games - and he returns again.
The rhythmic beats hammered words and phrases of That Song in mind, drive in them - powerfully, clearly and rhythmically.
Tough and intense guitar riffs are beginning 21, next the impression portion of a romantic tenderness brings the female vocals in the chorus, then rigid and zealous riffs, fused in rough bar with a male harsh vocals, returns again.
Female cheeky chant begins On the Rocks then the refractive their sound in a variety of angles, again returning to the swagger of chant after the chorus.
Sensuality and sublime emotions lady akkapelno exalts during intro of Limitless, developing into a gentle and sensual ballad, which complements with the clean vocals of fantastic prince.
Dense powerful hard drive of Fury is interwoven in a single stream with a hard male vocals, bringing a popular theme and light shades in the chorus with clean male and female vocals.
Anxiously requires clean male vocals to do everything Faster, then to his main motive adds violent parties of growling harsh,female vocals serves as background during chorus.
Emotions, feelings and nerves effervesce with swirling wisps of mist - vocal trio combines shades of their features into a coherent picture of single entity that already Break Down and Cry.
Dance Supersonic rhythms makes slashing beats that accompanies the memories of long-familiar tunes - so there is a disco!
Keyboards delivers fantastic extravaganza with Fireball, circling by firmament cosmic images that complements vocal trio voices.
Lady Endlessly complements its sensual vocals with beautiful symphony, orchestra makes a wonderful fairy-tale image of the universe, sharing a charming melody with a gentle guitar solo and violin passages. But - the album ends.