October 20, 2020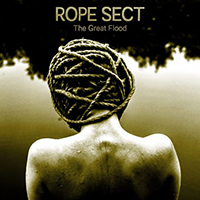 The sermon, as if the creator shows the way of his hand over human destinies, begins the narration of the Rope Sect - The Great Flood album dedicated to the concept of natural disaster. Then the music rolls out the musical canvas of the main motive of the Divide Et Impera composition, supplemented by the brooding narration of the clean male vocals, then supplemented by the background melodies of the female. The dominant male vocals then take off on a faster journey, retaining their woeful sophistication and the backing female vocals in the Rope Of The Just chorus.
Music pacifies its tempo and complements the epic romanticism of the echoes of guitar notes. The Eleutheria vocals part gives more meaning to the phrases of the singing lady. The Prison Of You song throws off the shackles of past difficulties and sad experiences and returns to the vastness of 70s music. Rising up with unsettling foreboding of the guitar solo of the intro, The Underground Paradise then consumes a restrained drive with a touch of country style and echoes of ancient legends, complemented by the wistful vocal phrases of a wise bard.
The guitar solo precedes the development of the main motive, acting as a component of the construction of the leitmotif of the Hiraeth composition, twisting its rhythmic axis with the chime of the guitar solo. The lead guitar solo of the Flood Flower intro is then pacified by the romantic ballad of the verse, whipping up again in the chorus, splitting the male vocals into a duet of two voices. The Non Serviemus instrumental suite captivates with the emotional reflections of a guitar solo.
The Issohadores song immediately brings the vocals back to the forefront of the musical image, while retaining the addition of the dominant male vocals with the background charm of the singing lady. Mystical shades of ghostly echoes of forgotten fairy tales appear already in the Diluvian Darkness introduction, then braiding the vocals with lace of epic sagas, ending the album with the soft charm of en epic ballad.