October 01, 2018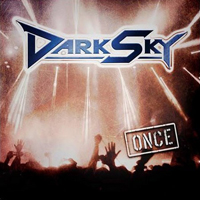 The symphony of orchestral passages twisting the mysteriousness and classical musical trends together instrumental introduction Into The Arena begins the Dark Sky (DEU) - Once album, vocal additions are only chorals in the final part.
The howl of the wind and electronic impulses pass into the title composition Once, continuing the album with solemn musical passages and emotional vocal reflections, weaving them together in a mid-tempo march.
A wave of harsh drive condenses and darkens the When The Rain Begins To Fall sound, but the melody is brought in by bright sparkling keyboards, vocals give the composition an indisputable charisma and mysterious charm.
Bass guitar solos anticipate inspirational sublime reflections, shrouded in sparkling keyboard passages, then Reasons song is transformed into a brooding mid-tempo song wrapped in vocal phrases with ribbons of impressive musical passages.
A romantic ballad Final Day will lead you to the spaces of your dreams and incredible promises, enveloping you in a sensual atmosphere and expectation of vivid emotional impressions confirmed by an inspired vocal part.
The epic exciting intro leads to the plane of ancient legends, anticipating the description of battles and battles that only Gladiators On Ice can survive, in the final album the musical symphony is supported only by background chorals.