May 25, 2020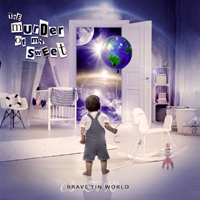 Starting the story of the The Murder Of My Sweet - Brave Tin World album partly by declaring its title, first its track emphasizes the vocal narrative meaning of the perception of the Tin Soldiers, which lays its development and perception of further life. Wrapping a leisurely procession of musical passages, the vocal narrative My Religion complements the main narrative of female vocals with notes of male clean vocals.
The symphonic charm of the musical passages elevates the vocal narrative to the top of the Head of the Snake musical sea. The chime of keyboard artistry complements the sophisticated thoughts of the singing lady, then combining the vocal and musical streams in Reasons to Live musical composition. The inspirational vocal tunes of the singing lady come to the forefront of the musical narrative of the Safe in the Shadows inspiring ballad. The Hit the Ground song is retaining inspiration, breaks the rhythm of progressive mystery before the entry of the dominant emotional tunes. Anxious sensations impose intriguing ambiguities in the Everyone Wins vocal narrative, then weaving vocal and musical passages in an anxious expectation - opening the gates to unknown temptations and anticipations, weaving together male and female vocals.
Walking on a leisurely journey of the Memento romantic ballad, music combines guitar and keyboard passages in an artistic lace around vocal inspiration.
Bringing the spirit of unity of futuristic electronic passages and Broadway atmosphere, Keeper of the Flame first brings male vocals to the fore, then returns the singing lady there. Electronic musical reviews take on some shades of industrial musical essence, lifting the phrases of a singing lady to the top of the Worth Fighting For musical narrative. So pensive musical mystery of the Alchemy of Sins song completes the album, in some way returning to youth and complementing the sound with the style of 80s music.