March 25, 2021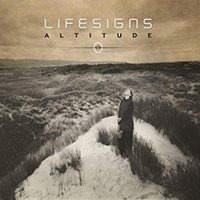 The title composition begins the Lifesigns - Altitude album with sublime thoughts, then enchanting the melodious alternation of keyboard and guitar solo, fond of incredible dreams and charming magnificent. Then vocal phrases come to the foreground in the musical component, complementing the musical artistry background vocals chants. The Gregarious composition displays vocal reflections on the forefront of the musical image, wrapping them with the seals of a majestic musical symphony.
The Ivory Tower romantic ballad uprises the sign of sensuality, enchanting the listener by vocal emotions and musical tenderness. Sad Shoreline vocals reflections appeals to memories of the past losses, sometimes inferior to the charming tenderness of the guitar solo. The sound of the Fortitude song somewhat simplifies the sound of the album, the romantic ballad banners in the chorus.
A briefless instrumental intor Arkhangelsk sets intriguing notes into the sound of the next composition Last One Home in which music and vocals are woven in the charming dance of memories. The Altitude Reprise outro acts as final completion of the album.