February 21, 2019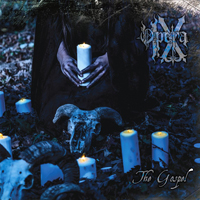 A pensive sacrament, the introduction envelops the beginning of the Opera IX - The Gospel album with gloomy omens, then the title track's main motif rises from the mysterious twilight, incarnating in the majestic anthem of the mysterious darkness. then the narration accelerates to a mid-tempo march, then swift passages intertwined with ribbons of symphonic motifs. In continuation of the concept album, vocal unhurriedly heralds the Chapter II of the ancient annals Wise phrases sound viscously and painfully. But then the drive breaks through the gloomy haze like a swift blade.
A fascinating sacrament of symphonic grandeur and chorals blend with sparkling threads the introduction of the Chapter III composition, then the singing lady gives sensuality to the musical image, but demonic screaming explodes in a wave of drive, then these contrasting musical shades interlaces in alternation.
Once again, the singing lady appears in the fascinating symphonic twilight of the The Moon Goddess intro sad romance, but then the screaming vocals and musical accompaniment are carried away in a rapid flow of drive, preserving the symphonic shades of musical narration.
The fascinating sound of the House of The Wind main motive appears immediately in the intro, the sound shackles vocal reflections saddened fetters, presenting a charming gloomy twilight with a majestic romance. But then, preserving the enchanting melody, the musical image is transformed into an interweaving of medium-tempo vocal reflections and symphonic passages and the swiftness of the rhythmic pattern. But the final part returns to the thoughtfulness of leisurely reflections.
The guitar solo is alarming, but the majestic keyboard passages tend to keep The Invocation narration at an average pace, which is promoted by vocal phrases, holding back the wave of the verse and giving thoughtful reflections to the chorus. But the music complements the impulses of the swiftness of bridges.
Continuing the musical narration with the solemn significance of the majestic Queen of The Serpents anthem, the overall style of the album continues with the wise slowness of fascinating significance. Then the Cimaruta song continues the sounding starting with a duet of male and female forebodhers, then in the instrumental melody guitar and keyboard solos alternates in the dominant role.
Sacrilego completes the album with restrained waves of fierce drive, entwined with sparkling flashes of bright melody and encompassing vocal phrases with enchanting musical symphonies. The funeral march precedes the completion of the composition and the entire album.