June 03, 2016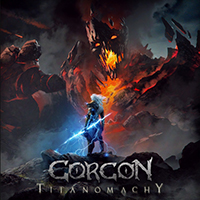 Gorgon (FRA) - Ashes And Blood (Single) filled with eastern, desert motifs - it sets up our souls to the perception of its creation, decorated in a multi-faceted concept artwork Gorgon (FRA) - Titanomachy started by the instrumental track Oros Othrys that combines distant fairy with the warlike oriental tune.
Increasing noise, marching horde pay homage to the Arising Thunderlord. But uprising of the Lord is not so simple - warlike hymns braided with powerful vivid guitar riffs. And it turns out that something like a symphony, enveloping us with its charms and force to support that Lord!
But not so simple fate of those who're in the Valley of Redemption! Annoying, craped, persistent story passes through these difficult fate, like a hammer on an anvil. In the instrumental parts hammer hits harder, pushes mightier! Story teller ends the tale by quick rush to finish it!
Still have not heard grim, imbibed oriental motifs, tale apart from other odes? Then - Ashes and Blood for you now. The grim story about the transitory nature of corporeal shell before the spiritual and divine ends with the symphonical passage.
Quick, jerky galloping rhythm gives way to unhurried narrative about the Titans Unleashed, which somethimes provides a brief rushes, then returning to the persistent story of the Titans, break the shackles of controlling their impulses.
Beats on a tambourine, ritual dance captivates Oracles without a word conducts his ceremonies, dancing with a tambourine, when the spirits and ghosts fly around his tower, filling everything around with its howling!
Persistently, powerfully thresh their steps, make their way - seeing among them Everlasting Flame of Olympus. Intolerant Titans to contempt, imposed on them by the gods of Olympus - over the evil, aggressive and insistent rhythm soars melancholy, sad and aggrieved melody.
Symphonic waved us on waves of clouds Elysium, then tightens its course, without blowing the rhythm tempo rabies, but replaced the dreamy ode with furious indignation, continued by the rhythmic harsh story. But at the end of a dreamy ode returns included in the melodic and sublime guitar riff. And it concludes the track to finish with harpsichord...and only the wind howling in the distance.