October 21, 2018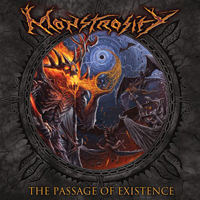 Mysteriously and mysteriously starting the Monstrosity - The Passage of Existence album, the twilight haze envelops the Cosmic Pandemia sound with an intimidating fog of introduction, then the vocal complements the composition with tones of fairy-tale epicity, complementing the significant growling with notes of emotional screaming in the choruses.
The wave of the drive completing the previous composition anticipates the Kingdom of Fire introduction, in which the mid-tempo waves of the pulsating musical accompaniment intertwine with the vocal narration, but the music is carried away in rapid jerks in the instrumental bridges. The story ends with a romantic melody and muffled echoes of epic tales.
But Radiated immediately explodes with impetuous drive, musical motifs twist the lace of the main motive around vocal phrases. The instrumental solo complements the song with the trends of fabulous motifs. Solar Vacuum continues an unrestrained flow of impetuous drive, music and vocals compete in a fierce race, weaving in an impressive musical trend.
Weaving in the introducing fetters, The Proselygeist rolls in waves of a mid-tempo march, enveloping everything around with mystery and unpredictability. Maelstrom continues the mysterious and majestic narration, enveloping vocal reflections with an epic round dance of fabulous notes. Musical laces are complicated by bringing notes of progressive trends. But in the bridges fierce emotionality precedes the majestic chorus anthem.
Then the motive of the ceremonial march develops into the furious pressure of the unrestrained drive of the music of the Eyes Upon the Abyss song, anticipating vocal reflections. But the instrumental fury recedes before the vocal phrases in the chorus, raising a bright wave of guitar solo in the instrumental part. Dark Matter Invocation as if continuing this narrative of the final part of the previous composition, hiding the vocal phrases in the choruses with a mysterious, mysterious haze.
The title of The Hive song heralds its sound in the introduction, the gloomy foreshadowing of epic adventures, associated with progressive and fabulous motifs, bringing together such impressive and exciting musical solutions.
The final part of the album begins with a pulsating mystery in the Eternal Void intro, then pulsating in the musical passages customary for the melodic death metal music style. Century encouraging after the gloomy detachment of the lyrics of the previous composition, extolling the readiness for the coming trials. The final part and the whole album concludes with the magnificent Slaves to the Evermore anthem, that is weaving together the threads of the concept album in a solemn saga.