April 19, 2021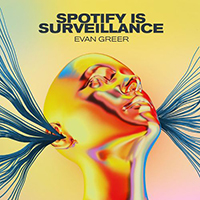 The vocal party, supplemented by soft romanticism of the chime strings of an acoustic guitar takes the dominant position in the music of the Back Row song. Then the main vocal complements the background sign The Tyranny Of Either/Or composition continues the musical narration of the Evan Greer - Is Surveillance album with a sparkling swirl inspired drive, sometimes withdrawing the female vocals in the duet with the main one. In the chorus, female vocals goes to the forefront of the musical image.
Chants set the mood of the Surveillance Capitalism intro, then male and female vocals alternate and combine their sentences in mysterious meditations. The vocals wrap the musical canvas of the Taking Down The Tent main motive introducing into the sound of the album shades of the country style.
After the question of the Russians, the sound of the Emma Goldman Would Have Beat Your Ass composition is bringing the echo of the Russian folklore, spins the flywheel of fury.
Meditative serenity of the Willing To Wait romantic ballad wraps atmosphere of sensuality and echoes of love experiences. The Punk Rock Angel From Montgomery (John Prine cover) completes the album with a very peculiar unity of musical styles and male vocals with female.