May 30, 2019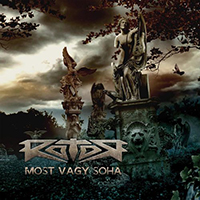 The fabulous story of the Rockkal vagyok osszenove song, enveloping with enchanting trends, begins the Rotor (HUN) - Most vagy soha album with epic tales. Enveloping the atmosphere of bardic legends Mintha szegyen volna brings the spirit of ancient fairy tales in an even more charming way. Having a rest from adventures and wanderings Elunk es meghalunk begins with a pensive romance, but then it is transformed into a pulsating medium-tempo narration.
The gloomy covers of the mysterious Gyoztes akarok lenni tale of the black magician precede the title composition Most vagy soha, interlacing the lace of the eternal struggle of good and evil, light and darkness, eternally cracking knightly swords and magic spells.
The unrestrained thriller of the Hollorege composition rolls in waves of the main motive, rushing uncontrollably along the chosen path. Then the Rotor 1992 instrumental saga rolls first with the spirit of romanticism, later paying homage to artistry and complementing the sound of the album with progressive shades. Epic Egyedul ballad lifts into transcendental distances of enchanting greatness.
Spicy trends of eastern folklore complement the style of the album with new shades, vocals bring emotional peculiarity to the sound of the Sensei song. Returning to the significant origins of the traditional metal Eletben maradtunk complements them with epic vocal narration. The charming fairytale narrative of the Suhanunk song parades on the edge between a mid-tempo march and a romantic ballad. The main motive of the Rotor sziv composition fascinates and fascinates, enveloping the charming melodies with whirlwinds, then the A rock legyen veletek completes the album, returning to the procession along the line between the middle tempo melody and the dark ballad.