February 05, 2021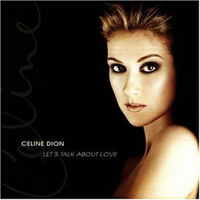 The singing lady again and again accentuates the title of The Reason composition in the chorus, marching softly and thoughtfully in the atmosphere of a gentle symphony. The Immortality continues the Céline Dion - Let's Talk About Love album with a muted symphony, in which the sparkling female vocals stroll slowly and thoughtfully. But then the Treat Her Like A Lady hardens the vocal part, complementing it with recitative and transforming it with the unity of chanson, blues and rap. But the Why Oh Why song adds a light musical atmosphere to the saddened vocal reflections, leaving the vocal part in the romantic bliss in the Love Is On The Way foreground.
As if transferring the listener to the medieval ages with valiant knights, the singer combines in a duet with the vocals of the legendary actress in the Tell Him (Duet With Barbra Streisand) ballad. The Amar Haciendo El Amor departs from English lyrics, bringing flamenco elements to the melodic sound. The mysterious atmosphere envelops the When I Need You vocals part with an obscure intrigue. The Miles To Go (Before I Sleep) song's romantic tunes carry you away above the clouds of everyday life into dreamy spaces. The Us seems to continue the sound of the musical atmosphere, alternating the thoughtfulness of the verses with the inspiration of the choruses.
Preserving the romantic atmosphere and jazz echoes in the vocal part, the Just A Little Bit Of Love track appeals to the style of popular music. This song is known to the majority as it is the main part of the original soundtrack of the internationally acclaimed and award-winning movie - the My Heart Will Go On song was also part of that success. The Where Is The Love vocals move softly and tenderly in the mist sparkling with romantic echoes. The incredibly sensitive and sublime Be The Man (On This Night) symphony complements the singer's vocal characteristics, creating an inspired musical image for her. The I Hate You Then I Love You (Duet With Luciano Pavarotti) song develops and complements the influence of classical music on the artworks of this artist, complementing her voice with the inimitable vocals of the legendary opera singer. The Let's Talk About Love title track puts an end to this album, combining vocal charm with soft musical melody.