April 29, 2017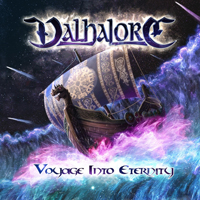 Nothing can be eternal, but Valhalore - Voyage Into Eternity regenerates ancient melodies and tunes in a new form, embodying them with modern meaning and content forever and ever!
The noise of the free winds, the singing of birds and thoughtful memories build up the introduction of By Moon And Stars to the album, passing throug the gentle melody from above. Then a soft, fascinating melody grows with folklore motifs and rhythmic warlike strokes.
Mysterious, brooding melodies of the Malice Of Illusion leads away from the foreshortened destinies, combining folkloric motifs with a variety of vocal styles and musical decisions.
Gentle soft melody starts The Winterstone tale, then the flute and keyboards carry the banner of the main motive, the vocals change styles from groening to soft pure, combining them with the chorus of comrades-in-arms and the female chants of illusory fairies.
Delightful folkloric motifs with enchanting whirlwinds raise fairy tale Guardians Of Time above the clouds, the flute passages sparkle in the sunlight - then the music envelops in a powerful drive, accompanying enchanting motifs with power, enveloping lyric romance in sparkling armor.
The proud melody raises the violin and flute into the forefront of Across The Frozen Ocean, further complementing their parties from all sides with power and rhythm, shades of vocal variety, without leaving even a little indifference in the souls of listeners.
The thoughtful melody begins Upon The Shores with soft and mysterious images, then embracing everything around with its charming fascinating sound, combining an incredible variety of shades.
Sage's phrases come, causing violent musical rushes of Augury Of Death, bringing soft melodies - further these contrasting features combines in single stream of musical charm, replacing each other in the foreground of the musical image.
The charming, enchanting sound of ancient folklore tunes, revived by the melodies of the flute in Forth The Red Sun Rises instrumental suite inspires to the future accomplishments.
After the previous magical spells, title track Voyage Into Eternity raises the sound of clean vocals on the wings of powerful and inspired instrumental frills above the clouds, the sun in the sunlight like the newly-revived legends of all times and peoples.
So fascinating sound of a wonderful instrumental saga By The Light Of Funeral Pyres completes the album - and causes a desire to listen to it again and again!