August 20, 2019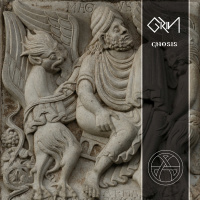 Majestic instrumental passages of the Prologue composition envelops the beginning of the Grin - Gnosis album with the trends of ancient legends, giving some mysterious intrigue to further musical variations. Developing the motives for the album's entry, Universal Antidote complements forgotten fairy tales with various variations of the vocal part and alternates a fast-moving drive with painful and emotional pleas for help.
Arising in a pulsating introduction march, Eyes Of The Creators returns his motives in instrumental passages, but chases in verses in an unbridled drive, returning to the introduction in a chorus full of emotions of vocal phrases. Title composition Gnosis is in twilight instrumental motifs, weaving a mysterious instrumental mosaic lace. Rust On My Fingers continues the musical progression of the album with viscous gloomy thinking, full of thoughtfulness and light sadness.
Rhythmic explosions and pulsating passages prepare in the Burnt By Life deadly dance the development of rapid drive and emotional vocal screams. The unexpected and unpredictable dance of the Need To Be A Human guitars passages gives way to a gloomy march with muffled vocal phrases, but then explodes in waves of unbridled drive. Acoustic instrumental motifs bring the spirit of ancient legends, performed in the spirit of Simon Magus minstrel ballad. Then the music transforms into a sonorous mid-tempo Turn Off My Brain march, in which meaningful vocal phrases surround the whirlwinds of progressive guitar passages. In Mental Hole introduction, mid-tempo motifs becomes more pulsating and rhythmic, tossing up along with vocal phrases. Even For A Moment completes the album by continuing a similar style, bringing vocals reflections to the forefront of the musical narrative and alternating from with bewitching progressive instrumental bridges.