October 18, 2019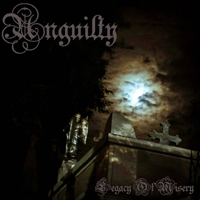 The atmosphere of Drowned in Void mysterious mystery mesmerizes the music with emotional feelings through obscure ghostly conjectures. Instrumental bridges crown the compositional structure with charming melodic guitar and keyboard passages. The Worm's Graveyard continues the Unguilty - Legacy of Misery album, enveloping vocal reflections with obscure veils of the twilight anthem, captivating and seducing with obscure promises of witching greatness.
Doomed by Freedom raises the sparkling banners of saddened romanticism, enveloping the vocal part with bewitching lace of bewitching melody that brings some waves of inspiration and charm. The title composition Legacy of Misery envelops with tales of worries and worries, why walked sadly and dejectedly along the path of the main motive and rolling the musical outline of the dark anthem.
Starting with soft and gentle guitar busting, Inner Emptiness then continues the solemn charm of the majestic anthem, however it disperses the clubs of darkness and the gloomy haze, raising the banners of valor and fearlessness of legendary heroes. Keeping epic influences at the head of the musical narration, Rotten Past leisurely but significant procession of recollections of ancient legends marches, sometimes leaving vocal phrases as the lead part, complementing the vocals monologue only with guitar strings chimes. Braiding with mesmerizing lace musical passages Derisive Existence weaves the musical essence of the main motive, completing the album with the trends of a pensive charm.