June 19, 2017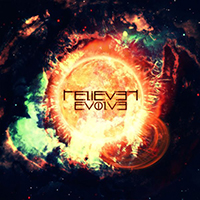 Deep, thoughtful, unhurried intro Perihelion of Reliever - Evolve album throws into the The Weight of the Knowledge saga, that performs abyss of anger and gloomy drive with different paces, combining gloomy vocal phrases with a menacing and misty musical atmosphere. After the burdens of wisdom and burdensome knowledge, a calm, thoughtful confession follows the soft and melodic instrumental breaks, crowned by divine passage of keyboards.
Thoughtful reflections continues in the tender melody of the Where Elements Born intro, creating such inspired ballad that carryies the banners of its melodious ideas through the slaughter of the rushing drive.
But irritated rage and frenzied, unrestrained anger have embodied in confrontation Masters & Slaves, but after so fierce battles, melodic, reserved and sensual bridge follows, accumulating energy for the fury of the next verse and ancient melodies crowning the refrain with their mythical murals.
Pensive, self-sufficient and bright Were Oceans melody, Carries away in the depths of this tale, enveloping the fog of predictions and intuitive sensations, beautifully combining the guitar base and keyboards of this bright musical image Promptly and solemnly, grandly and majestically Colossal Guardian аulfills its obligations, embittering and making the musical march more rhythmic with its deep, dense and persistently growling phrases.
Solemnly, majestically and proudly, the herald's trumpet pre-speech of Aphelion promotion, creating to it such a majestic and significant accompaniment. Amigdala breaks into the musical image with the swift deadly dance of whirling deadly blades, rushing in dance of unrestrained musical impulses and violent vocal speeches. Then the music for a while gives way to reflections in a restrained march, but the drive of deadly dances comes back again and again - even after the symphonic instrumental saga with mythical violins, cosmic keyboards tunes and melodious guitar ideas!
Persevering, violent, uncompromising Structures of Nothingness drive confidently, purposefully and fiercely goes a confident procession along the chosen path, surrounded by a magnificent dance of brilliant and sparkling musical ideas!
Monuments to the Shame miraculously and unequivocally interwoven with the finale of the previous composition, then transforming the music into a sharp and impetuous rush of the verse. Then the chorus raises to the front edge an inspired and exalted royal speech, broadcasting about the lowliness of vices and sinful shame! And these changes are happening again!
Symphonic and classically opening the gates in front of a swift and frenzied musical rush Relief completes the album in an inspired, romantic and twilight ballad, captivating the space of fascinating dreams with rapid rushes, sparkling with melodic and various guitar and keyboard parties.