July 29, 2020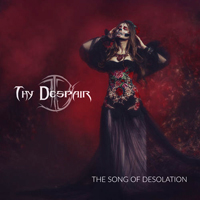 The emotional inspiration of The Free One musical mystery takes the female vocal experience to the top of the Sabbath musical image, then complements the Thy Despair - The Song Of Desolation album with the fury of growling, but leaves it in the foreground.
The impatience of female vocals alternates with the Fear And Despair demonic severity of growling, entwined with an artistic circle of musical symphony. The drive of musical fury brings the alternation of vocal transformations to the forefront of the Burned By Love musical image. The symphonic charm anticipates the romantic development of a sad reverie, then complemented by the Last Breath vocals proclamations.
The War bguitar solo creates the ambiguity of the intro, then intertwines with vocal transformations. Sad romanticism elevates the singing lady's tunes to the top of the Army Of Dead musical image, enchanting with trembling experiences of her vocal phrases. Sad reflections of female vocals indicate the path of development of the Falling Star composition. But the male vocals explode with the rage of furious calls!
The Ghost Rider singing lady's narrative dominates, then yields to the overflow of musical transformations and harsh growling, crowning them with the Falcon opera charm.