April 25, 2017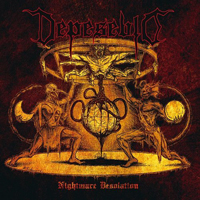 The spirit of young impetuous rushes combines with moralizing, sophisticated melodies in the sound of melodic death band Depeseblo - Nightmare Desolation !
Fury and confidence spill over into the unrestrained flow of a frenzied Odious And Obscene drive that destroys all obstacles in its path without the slightest doubt about the correctness of the chosen direction.
Music thickens the gloomy clouds of melodies, reducing speed but bringing to the forefront On The Edge Of Insanity the density and importance of the melody, circling in a dance of viscous and powerful guitar riffs.
Furious speed and a pumping drive return to the entry again, then the bridge arranges a short respite, followed by That Time Will Come for another rush of stunning drive.
The mysterious mysterious melody intrigues into the introduction, becoming the main motive with a thorough and fierce support for the percussion and rhythm section. Then, the vocal adds a touch of this captivating image, creating From Ancient Times To Present Lies multifaceted charm.
The charming melody of the title track Nightmare Desolation introduction turns into the lofty cloud cover and mysterious symbols on the banner of pride and honors. Then, the riffs that inherit her violently and proudly embody its impressions, exalted by it, embodying her moments and nuances. The slow, viscous and gloomy charm of the tranquility spells with sleepy incantations, but the vocal entry raises unrestrained Deep Below drive above the sleeping mist, combining a marvelous impressive melody with the fierce rushes.
So stubborn, unbroken and persistent narrative of Born In Flames stubbornly repeats its path, not perceiving the slightest disagreement, indicating the right decision-not accepting any distortions and changes!
The roar of the battle, explosions of bombs and machine-gun bursts are combined with an impressive formidable and tender simultaneously melody that creates the main motive combined for the From Present To Destruction introduction, then this melody takes us all to the forefront for its breathtaking sound. In this solemn march, the whole composition passes, solemnly and meaningfully completing the album.