August 09, 2016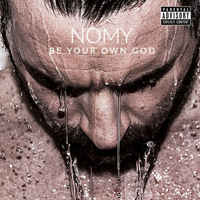 Can't pray to those who unable to be seen - so Nomy - Be Your Own God !
That's unavoidable, needs assessment - I Have A Problem! Transfering own problems on all who near, several times changing the rhythm - let my problems will become common!
My Nightmare - emotions destroys consciousness, carrying wishes and unfulfilled dreams on canvas, invented with fiction!
Title track Be Your Own God (Feat. Alexander Tidebrink) shifts in earlier times, ballad course and invited vocals staining mental daydreaming and emotional component of lyrical ballads. But over time ballad acquires flesh and power, transformed into a harsh vocals and screaming, adding to the density of the emotional component!
Who are you? How? Why come here?... A squad like you march under the rhythmic beats of drums, imprinting steps - or guide's whip rip clothes to pieces! Freakshow Part 4 lasts, we marching over you!
Powerful remote blows, silent keyboards passages, mysterious mysterious vocal opens with its sentences Dead Man Walking (Remastered). Ancient menestrel ballad aquires modern sound with the Bard's voice, passing on their knowledge of ancient and unforgettable emotional sketch to the current listeners.
Separate times, different generations can not understand each other. But we can Burn out all of that complications!
Each can be great in chosen direction, but there's a sense Don't Fall Apart. Quick dense verse urges all this, tight powerful and convincing chorus embodies it in full and invincible confidence!
The story describes all around of the world by identifying with a piercing sensation - so we have to Follow You now! Because you are the main part of the world, it can't stand still without your will!
Piano opens that intro with its notes, next something Gone! It fade away - because you're fading away! Dancing rhythms circling in the dance of memories, ghosts unfulfilled aspirations wrapping thoughts and desires.
Let it go! Nothing can Last Forever! So - let it fly away! Vocal phrases begin training, turning into an active cheerful assertion of musical sounds...for what you love! LET IT GO!
Man-made sounds, does not allow to leave without a farewell Before You Go! Dancing gusts will impress, not allowing you to keep further indifference, detachment and ordinary mundane tranquility.