May 11, 2020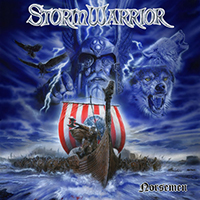 The soft and gentle To the Shores Where We Belong acoustic guitar solo mesmerizes with a thoughtful symphony, speaking as the introduction to the title track Norsemen (We Are) of the StormWarrior - Norsemen album, rolling out a restrained whirlwind of drive the musical canvas for a march of epic vocal narration.
The musical cry of the horn defies the northern winds, while at the same time singing their greatness and readiness to battle them in the Storm of the North musical saga. Rolling into the introduction the rhythmic dance of the main motive Freeborn then crowns its sound with emotional inspiration by the vocal part, combining two male vocals of different tones in a duet - dominating the higher and creating a background atmosphere with brother-in-arms lower chants.
Setting the intriguing sound of the intro to musical mystery Odin's Fire then elevates the main vocals to the top of the musical image. The grinding of the sharpened sword embodies the meaning of the Sword Dane musical composition, then sparklingly flying through the deadly dance of the blades, continuing in the Blade on Blade song story of the deadly weapon, emphasizing the danger and fighting fervor of the deadly blades.
After a thoughtful introduction, Shield Wall accentuates the importance of helping colleagues in a fiercely beaten, embodying it in the unity of vocal styles in the chorus. The long and impressive musical saga Sword of Valhalla completes the album, combining medium tempo variations and the atmosphere of a valiant anthem in a single musical lace.