April 19, 2023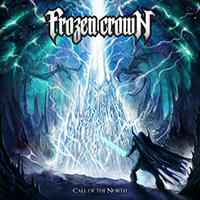 The title track begins the musical tale of the Frozen Crown - Call of the North album with an epic tale combined with the next musical story of the Fire in the Sky song in the inspired swiftness of musical flight.
The fierce sound of the Black Heart dark symphony retains its melodic charm, releasing the vocal part of the singing lady to the forefront of the musical image of the Victorious enchanting bard ballad.
The male vocals begins the narrative of the In a Moment epic saga, then wrap around the main female vocals with sparkling whirlwinds of musical variations, condensing the sound of the introduction and presentation of the Legion song while maintaining the melodic charm, transforming into the Until the End composition with shades of fairy tales and mystical legends.
The guitar solo of the intro sets the path for the journey of the Now or Never leitmotif, then crowned with vocal charm, continuing in the pensive charm of the One for All bard ballad and the final album's musical story of the Far Away epic saga.