November 26, 2020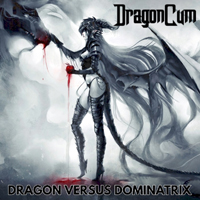 The Succubus Can Suck My Dick vocals narration 1 kicks off the highly spicy collection of the DragonCum - Dragon Versus Dominatrix album's fairy tales, continuing with the Morning Wood Wonders meteoric drive combining musical speed and vocals combining clean vocals, screaming and growling. The Blowjob Barrage complements the musical canvas with symphonic inspiration from keyboard passages, continuing the combination of vocal unity of different styles.
Bringing vocal rage to the forefront, the Sucked Dry somewhat restrains the musical tempo to the brink of mid-tempo and high-speed sound. Combining a keyboard symphony with a gentle chime of guitar notes, the Girl, You Don't Even Have a Mouth weaves the lace of a romantic ballad. After a melodic respite, the Here Cums Trouble explodes with a fast-paced musical thriller, combined with clean vocals dreaminess and growling rage. The vocal part comes to the fore of The Return of King Cocksmoker musical image, the mid-tempo march of the twilight anthem.
The bass guitar solo sets the intro sound, then continues the Cumming of Age song's music with mid-tempo pulsations. The Cum on, Really? dramatically accelerates the tempo of the music, crowning vocal phrases with veils of symphonic melody. The Lava Semen Versus Soul Sucker concludes the album by summing up the trolling of power metal symphonies.