December 03, 2020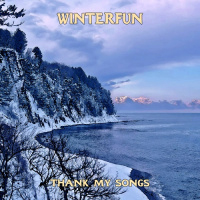 he majestic symphony with notes of northern folklore in the Land of Snow and Sorrow first composition is combined with a very peculiar and playful lyrics that embody the true appearance of the Winterfun - Thank my songs album. The harsh procession of the rhythmic component is crowned with the symphonic charm of guitar and keyboard passages, accelerating the Awaken from the Dark Slumber composition's musical procession with the introduction of vocals, complementing the sound of the Viking sagas with very spicy jokes.
The acoustic guitar solo of the intro captivates with mystery, then creates a romantic atmosphere of The Forest That Weeps bard's tale, in which, however, the vocal jokes remain spicy and harsh. The Sons of Winter and Stars continues the ballad romanticism, complementing it with a more epic structure and creating the enchanting lace of a northern fairy tale, complementing his deviant jokes with a symphonic atmosphere.
Whirling at first like a whirlwind of impetuous drive the Winterfun self-titled track then turns to a symphonic legend, enveloping the lyrical component with the atmosphere of ancient spirits, but then soaring again in a solemn procession of proud celebration. The final composition of the album When Time Fades Away soothes anxiety and mesmerizes with a calm and brooding romanticism with a symphonic essence.