July 14, 2017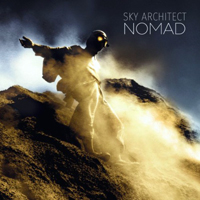 Wanderings of the Sky Architect - Nomad are not confined to deserts - and deserts are not only on Earth ...
First, playful, benign and cheerful motive. Then Wasteland arranges a melodic and lyrical respite, the vocal introduces a tinge of anxious emotions into the musical palette, then rises in a whirlwind of anticipation of experiences. Endless Roads (Part I) begins the significant, informative and mysterious saga. Pulsing in flashes of bright and discouraging musical ideas, the composition consists of complex and volatile instrumental motives surrounding the vocal part like invisible shadows, unexpectedly and unpredictably appearing in unexpected places and as surprisingly changing. Instrumental ballad Endless Roads (Part II), combining amazing, diverse melodism and romantic lyrics with a furious, confident head ... this saga ends with vocal phrases from and the instrumental break from the first part.
Title track Nomad complicates the rhythmic structure in the beginning, then gets into dreamy legends about the previous wanderings. In the bridge follows a playful respite, followed by wise and restrained vocal reflections and complex rhythmic palettes.
Starting with a musical explosion with the introduction of the vocal Dune starts out in leisurely, calm reflections. But emotions are not lost, they only hide for a while - then again arise in musical ideas and vocal phrases. Then the paternal changes repeats again and again. Once again, music concentrates on lyrical romance, complemented by the style of the lounge. Sandwalker does not hurry to spread all of his cards on the table - this story is long enough, created with all the tools. Keyboards, in previous compositions acting on the background here from time to time come to the fore.
In a pulsating, but complicated, diverse rhythm, the Race To The Sun introduction sounds in a whirlwind of guitar and keyboard improvisations. The introduction of the vocals somewhat simplifies the musical picture, but the drums and bass do not leave their complex and vivid competitions.
Again the saga consisting of 2 tracks completes the album: Into Singularity (Part I) starts it, combining encouraging, playful instrumental delights and cautious, wise vocal phrases. All this cocktail flows in a complex, eternal music stream in the universe, between stars and galaxies. Thoughtful, restrained and calm instrumental outro Into Singularity (Part II), bringing the wind instruments to the fore, completes the saga and the whole album, inspiring to listen to it again - pondering these instrumental and vocal images again.