October 30, 2017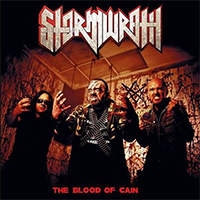 The eerie, frightening stories of warlocks Stormwrath - The Blood of Cain , the horrifying good-natured people begin with the enchanting story of an instrumental composition The Damned Thing.
The title track Blood of Cain continues these legends, not particularly harding or speeding up the sound, the phrases of the narrator in this musical image have a dominant meaning.
An irresistible stream of tough drive Belmez hardly sweeps all obstacles out of its way, then, after the necromancer's spell, again continues its unbending march along its path.
A thick impenetrable fog envelops the clearing on which the shaman in songs and dances performs an ancient, most important ritual. Then the vocal supplements the musical horror with its severe harsh. Then Burial Jackal music sweeps in a stream of furious drive, stormily and rigidly moving to the most important nuances of this history.
Starting with a soft, enchanting and inspirational guitar intro Stygian then captivates into the harsh corpus of its sound. Before the introduction of the vocals, there is a brief pause and is given due to the introduction riffs, starting the vocal accompaniment with a harsh romantic motive, then pumping the pace and picking up the impetuous impulse. Since composition Rebellion, the sound somewhat changes direction, still without leaving the framework of style, but supplementing them with several inimi shades.
Cast Down through the Abyss continues the changed stylistics, in which the evil charms and ghost spells of black sorcerers acquire a more rapid and severe sound. Although in the middle of the song the sound is supplemented by a high pure vocal ... a victim of necromancers, not otherwise.
The Seeing Red music becomes even stiffer, denser and more saturated, as if impenetrable gloom requires more and more attention to its enslavement of surrounding lands. A severe drive sweeps away any resistanse! The album ends with a certain return to the origins of metal trash, however Of Wolf and Blood preserves the newly acquired shades without losing, however, the obvious thrash'till death!