August 02, 2020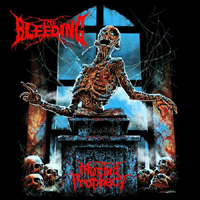 The mysterious Demonic Oath introduction ends with an explosion of impetuous drive, entwining the demonic vocal screaming with notes of a musical action movie, sometimes calming the tempo to please the vocal part. Thunderclaps and mysterious echoes bring the Maelstrom explosion of unity to screaming and growling, expanding the stylistic boundaries of the The Bleeding (GBR) - Morbid Prophecy album incredibly and excitingly.
Whipping up the severity of the music, the Entering the Pandemonium weaves vocals and musical passages into a mesmerizing unity. Dense waves of harsh drive whip up the Morbid Prophecy dusk, complementing the fundamental harsh of the vocals with notes of growling. The Storm of the Hellspawn continues to deepen the twilight sound, complementing the screaming and harsh of vocal tunes with notes of growling.
Painful uncertainty and sadistic power will combine the fury of the Sadistic Saviourvocals with the mid-tempo musical pain. The acoustic Repentance chime sets the typical grandeur of the musical intro, developing the Hammer of Penance final presentation of the album with a fierce musical thriller that unleashes an unrestrained unity of vocal and musical fury.