July 14, 2020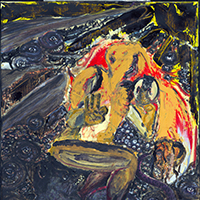 Gloomy mystery develops in the To Know How It Is Seen mystical outlines of ominous ghostly echoes then rolls over in dark waves of mid-tempo drive, slowly and meaningfully preparing the listener for the introduction of vocals, preserving musical motives Onward To..., complementing the sound of the Utzalu - The Grobian Fall concept album with the furious grinding of emotional screaming that brings vocal shades characteristic of the style.
Carrying away with a whirlwind of dance of vocal invocations and musical passages, the Ruptured By Incest music envelops in a twilight haze of vague expectations. The Colorful Flagellation condenses the rhythmic essence of the sound, crowning the crests of the waves of a stern march with vocal phrases. Rushing into a swift storm of twilight fury, In Treble With Phalanges points the way to musical passages with vocal phrases. At first, continuing the mid-tempo procession in the mystical twilight of the ritual mystery, the Avarice sets the motives for the subsequent musical thriller Separation Trajectory, developing musical ideas in a furious assault of musical anger, cutting through the twilight haze with a deadly dance of bloody blades.
Returning to the mid-tempo procession, the They Know Their Place track raises the dark banners of a gloomy anthem, rolling with the harsh echoes of the ancient annals of evil warlocks. Continuing a similar musical style, the Yellow And Alone somewhat accelerates the tempo and condenses the rhythmic structure of the musical image, giving greater importance to the guitar riffs of the main motive, anticipating the album's end with ...The Grobian Fall title composition, confidently and slowly accentuating the significance of the twilight musical narration.