October 11, 2021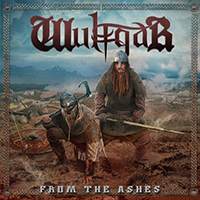 Persistently, confident and irrefutably, the title composition of the Wulfgar (Swe) - From the Ashes album begins his narration with unity of power and epic sound. Following the leisurely entry of the Thundering Winds song hurriedly and frantically runs as a chosen goal.
Vocal rage is dominated in the sound of the Daughter of Darkness composition, then the Daughter of Darkness is rolling the waves of the militant drive, anticipating sound of the My Fallen Brothers musical thriller.
Rolling the waves of northern wrath, the With Gods in Your Heart song combines vocals and music in a single pursuit. The Thunder Bares His Name continues the union of mutual grandeur, continuing it in a more rapid musical pace.
Somewhat accelerating the musical drive, the Setting Sail and Blood of Kvasir are rolling the waves of impatience and uliefness Union of vocals and music. The In Valhalla song completes the sound of the album with a certain addition to epic thinking.