May 10, 2016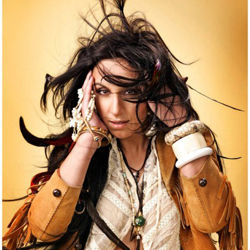 Maybe you sought thats you voice better then ever? Maybe!
Jamala knows its faith and much better knows further ways.
A lots of ways paces further road - and just what genre she voices?
Jazz? Noup? Pop music - listen to it, hope - you understand her way! i'm - not - a lot of years not
From Crimea, borned far from native land... she's not surrender! Struggles as well!
She voices a lot of styles, a lot of genres - turn on your ears!
You can use your mind to understand the For Every Heart, All Or Nothing and Подих.
It's hard to describe what causes in each of us a peculiar perception and personal emotions! That's unical thorns releases you out of slumbers!
Last artwork released this year - it started by 1944 that tells about hard fate of people in Crimea. Jamala - 1944.
Sad melancholy ballad Watch Over Me unhurried and melodic, continuing thoughtful and grim tale.
Beginning of Hate Love leads to the expectation of a more aggressive and rhythmic music.
Expectations are justified - ragged sharp rhythm and more emotion in vocals!
Aggressive revival becomes mid pace I'm Like a Bird the bulk of the composition performed by rhythm section, the melody of other instruments hovering in the sky above the clouds.
If you listened to all the songs of this album - have to Thank You!