April 20, 2022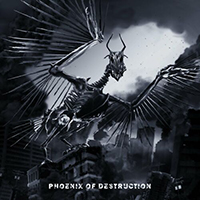 Furiously, powerfully and energetically, the Bloodthrone - Phoenix Of Destruction album's title track kicks up a storm of frantic drive, completing the musical beats with vocal melodies and echoes of northern folklore, even more severely and powerfully sweeping away obstacles in the way with the sound of the Dark Lands fairy tale, again complementing the sound with an artistic embodiment of folklore motifs and twilight mysteries.
Stubbornly, persistently and irresistibly, the Destroyer Of The Gods composition rolls in waves of the main motive, then raising the vocal severity on their crests, then sharply accelerating in the unrestrained musical assault, twisting vocals and music in a swift whirlwind of a fierce storm, entwined and decorated with melodic sparks and dominating the vocal significance in the sound of the Towers Of Endless Time song, enveloping the storyteller's narration with the shadows of northern sagas.
Music and vocals weave a bewitching picture of the Blood, Snow, Stars epic tale, then rhythmically and persistently hammering its way in the chosen direction and carried away by a swift whirlwind of musical zeal of the Shadows Of Dust swift and unrestrained assault. The intriguing twilight of the As The World Sickens opening anticipates the solemn procession of the valiant army, ending with a swift assault and inspiring the painful sound of the Fire track, which anticipates the militant mood of the Cancer To The Cosmos final composition, ready for any trials.