February 26, 2022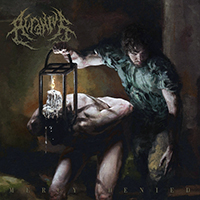 The harsh vocal proclamation calls for musical power and drive, rolling in waves of the Rule Of Seven harsh tough march in unison with deep vocal significance, anticipating the powerful march of the Despairbound track which continues the Acranius - Mercy Denied album with a deep and dense significant march, somewhat accelerating the tempo with the introduction of the vocals narration.
Building up the tempo and musical fury, the Scorn musical thriller hardens the sound, tempering the tempo somewhat in the fragments with an ascension of vocal significance. The No Dignity composition brings the vocal part to the forefront of the musical image, complementing the sound of the drumbeat of the battle march.
The intriguing Ruthless (feat. Cameron "Big Chocolate" Argon) intro captures attention, then combines the main vocals with the impressive tunes of the guest vocalist, the Still Unconquered composition continues the clear dominance of the vocal part in the sound, complementing the vocal narrative with rhythmic musical support, marching with the confident procession of a meaningful march.
The Mercy Denied title track captivates with the thrilling sound of musical motifs topped with an enchanting oomph of vocal mystery, continuing the musical narrative with the mystical mystery of the Crooked Leech twilight tale, enveloping in a whirlwind of ghostly vortices the heavy rhythmic pace of the musical procession. The Feigned Death composition rolls in waves of dense rhythmic severity, preparing a stimulating atmosphere to recede into the background with the vocal part coming to the fore. The Embittered song opens the album with a whirlwind of musical intensity.