September 13, 2020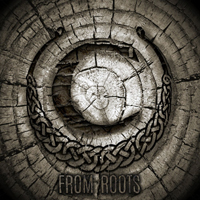 Setting the mood and inspiration of the Cernunnos (ARG) - From Roots (EP) acoustic release with the Leaves Of Blood (Acoustic Version) instrumental symphony anticipates a further continuation of musical unity in The Battle Of Moytirra (Acoustic Version) lace of orchestral additions with vocal inspiration, weaving vocal emotionality in a mesmerizing dance with the tunes of violins and flutes.
Dancing in a mid-tempo dance, the Birth Of Galatia (Acoustic Version) tale creates the atmosphere of a medieval fair, then transforming the sound into the chants of a bard who tells about his travels to the chime of acoustic guitar strings, wrapping this composition with melodies of wind instruments, sparkling echoes of fairy tales and legends.
Festivities and dances captivate with fun, complementing with vocal thoughtfulness, which brings echoes of bygone times into the sound of Let's Folk And Roll (Acoustic Version) composition. The Scarborough Fair (Acoustic Version) epic saga, interweaving in a single musical lace echoes of an ancient legend, completes the album with symphonic grandeur, unhurriedly and meaningfully unfolding the musical canvas of a majestic fairy tale.