September 23, 2019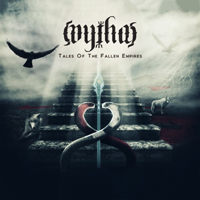 The harsh waves of ancient legends roll over the gloomy veils of epic Mythos (EGY) - Tales Of The Fallen Empires stories, vocal growling gives a more rigid and severe form to the composition, combining such contrasting phenomena into the sound of the Gods Of Wrath composition and revealing the album's features when in the instrumental part the guitar solo raises the sparkling banner of a bewitching melody.
Exploding in the rapid stream of unity of the cry of growling and fast-paced guitar passages, Unleash The Kraken tale in the verse restrains the swiftness of the musical drive, transforming it with the progressively broken rhythms of the bridges and the magnificent anthem of the chorus. Once again, a guitar solo envelops perception with bewitching melodic covers.
Severe whirlwinds appeal to epic impulses, then retreating to the bewitching melody of a guitar solo and severe significant vocal phrases, creating a lace of ancient legends about Gryphon mythical creature. Minotaurus march in a pulsating march, intertwining steps in a progressive introduction, then speeding up their procession in a deadly whirlwind of bloodthirsty anger, continuing fabulous memories of ancient monsters. Tales of creepy and incredible monsters continue to be enveloped in obscure forebodings and creepy tales, rolling an unhurried march of In The Presence Of Hydra composition vague trends of danger and intimidation. Starting with the waves of a pulsating march, in anticipation of the introduction of vocals Medusa transforms musical passages into a rhythmic heartbeat of monstrous magical power and inspires a restrained flow of a mid-tempo drive.
After epic marches, gloomy fairy tales and significant narratives, the Nefarious introduction is playful pas of a dancing drive, then the vocals enter with meaningful phrases, then intertwined with the playful dance of musical passages. The Beginning Of The End completes the music album, condensing the musical rhythm and enveloping the vocal phrases with the dark veils of the musical twilight.