December 29, 2017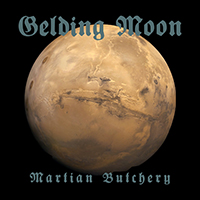 A dense stream of violent drive starts the Gelding Moon - Martian Butchery album with a violent frenzied sound. Then, after the rush of With the Sword They Will Be Killed frenzied power, a period of florid contemplation ends with another impetuous impulse with a vocal fog. The concentrated tired grinding of the chains and the muffled battle of the tamtams complete the composition.
So obscure mysterious fog envelops unintelligible Like the Blind vocal phrases, such gloomy muffled vocalizations, which at the end end in an incomprehensible mystery, captivating the mind in its tenacious fetters.
To Slander His Name continues the previous composition, absolutely merging with its enigmatic mysterious foggy sound, in which there are bright flashes of guitar passages, shrouded in gloomy vocal ghosts. The tambourines and dances of shamans closes these mysterious rituals to the final rush.
Without delay and expectation, Evil Work waves the violent drive, convulsively interrupting it with guitar meditations at the beginning of tact, covering his doubts with mysterious guitar passages. From time to time the flow of the drive dies in thought, even more ending at the end and continuing in the next track, Forty-Two Mouths. In the impetuous raging flow of a powerful musical palette, the ghostly shades of an obscure voice are raised.
These strange and obscure images continue in the florid, complex and mysterious vortexes To the Worm mysteriously enveloping in underground catacombs with obscure threats, raising concerns about the rank of mania. Wanderings through foggy, desolate tunnels uncharted by katak, along which crawl blind worms and frightening monsters causes the urge to whip out at all costs, embodied in an unrestrained musical race In Honor of the Beast. Fatal Wound Continuing this same impetuous drive, sealing up to a violent frequency the rhythm section 1 comes to the concentrated meditations, developing until the answer in a thoughtful, leisurely, viscous form in the final conceptual album of the composition The Graves Are Ready. Mystical rituals of unknown natives, with dancers dancing in the haze, complete the album.