June 06, 2022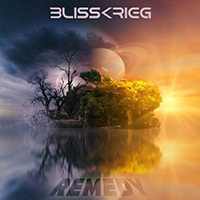 The assertive waves of the musical sound of the Inside Me song raise the vocal part to their crests, continuing the musical story of the Blisskrieg - Remedy album with an adventurous chime of the strings of the Parasitic bard ballad, continuing the spirit of wandering and adventure in a more energetic sound of the Take It Back composition.
The She Cries romantic ballad complements the album with sensual experiences. The sound of winds and blizzard envelops the Destination Unknown composition, continuing with a leisurely melodic story with memories of past wanderings and experienced trials.
The march of the squad drives the intro of the Rise and Fall song, then rolling waves of medium-tempo drive. Guitar riffs are promoted to the role of the New Age main motif, anticipating the pensive blur of vocals.
The music and vocals of the Waiting composition envelop the atmosphere of intriguing doubts and vague premonitions, developing into the mystical mystery of the Wherever You Go ballad with an echo of oriental motifs. The Remedy title track slowly and thoughtfully sums up the main line at the end of the album with a brooding ballad.