August 25, 2016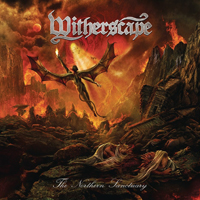 After a hot, sultry painful journey - we need Witherscape - The Northern Sanctuary which will restore our bodies and minds!
Mysterious mysterious keyboards trills cause Wake of Infinity. Magic unexpected moves combine different musical passages, vocals vary from clean to growl, at times using harsh. In the middle of the song dreamy nice clean vocals combine their course with keyboard passages, bearing in mind the scope of the fictional indefinitely images.
Powerful and energetic start chanting his understanding In the Eyes of Idols with the harsh vocals, changed by the brief part of the clean vocals. Next, clean, harsh and growls vocals interspersed, creating the whole picture, changing the pace of its history and adding powerful and energetic parts to melodic respites.
Space keyboard notes fly through space and time, bringing us to the unimaginable Rapture Ballet. Joined vocals dispels the atmosphere of charming uncharted expanses of space, shading vivid and powerful sites with the growling, transferring with clean vocals to sublime memories of ancient melodies.
Gentle keyboards entry begins the path of ballad The Examiner to our hearts and minds. Sensitive and emotional clean vocals exploring our feelings, dissecting our consciousness by ghostly scalpel in its psychological assessment. Brief growling inclusions enhances the effect of that research to incredible heights!
Celestial spaces not allowed to divert attention from them so far - Marionette must obey the wishes and movements of the Master. Melodious ballad united in such parts - quiet and calm clean vocals, telling his sad story of quiet melancholy melodies, powerful and dense growling with fabulous keyboard passages.
After a slow, peaceful and quiet reflection ballads should be fierce, express Divinity! Clean vocals and growling are joining the supporters party with duo rush, combining their colors in a single stream!
Unforgettable motive exalts memories to the God of Ruin. The tunes of the old prophets is risen from the ashes, suffering bygone era in subtle and tactful confession, framed with distant instrumental edging.
Intriguing melody mysterious music box begins the tale The Northern Sanctuary, rush like ghostly revelation tune through its entire path, rich variety of ups and downs and changes. Keyboards vary a lot - from the rich, dense and stubborn, to the quiet calm and melancholic. Brilliant tale, absorbed in his canvas, woven from various audio palette, a wide variety of shades, completes with divine exalted piano outro Vila I Frid.