July 28, 2019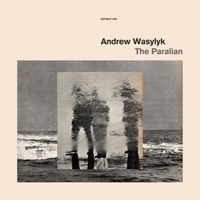 The steps, the singing of birds and the atmosphere of natural peace are complemented by the sound of the Through The Field Beyond The Trees Lies The Ocean song, which introduces and develops the music of the next Greendrive #2, starts the Andrew Wasylyk - The Paralian album with an enchanting acoustic chime of guitar strings and enchanting with all-around pacification that dispels anxiety and hardship.
But the experiences do not disappear and rise from the depths of the mind with doubts, forebodings of possible trials and weave songs into Journey To Inchcape brooding ballad, from time to time filled with fascinating charm of instrumental variations. Thoughtfulness envelops you with an atmosphere of obscure ideas and inspirations, wrapping itself in coils of obscure sacrament and fascinating thoughts of the Welter In The Haar composition. Continuing the obscure mystery of the previous track Dreamt The Breakers Spill begins the mystical mysteriousness of the intro. Then the enchanting saxophone solo comes to the forefront of the musical image, the rest of the music passages create an enchanting background for this part.
The pulsating rhythm creates the basis for the motives that bring the spirituality of the ancient gurus and the sacrament of Indian meditations into the album, weaving these mysterious sacraments into the lace of the Flight Of The Cormorant composition. Gloomy thoughtfulness and light sadness weave orchestral lace of musical solos, intertwining instruments in an enchanting extravaganza of the Westway Nocturne romance.
The violin solo rises to the forefront of the musical narration of the Mariner's Hymn composition, on the other side of the musical image the pensive reflection of the piano is marching. Wrapping the charming atmosphere of an unforgettable lounge, Adrift Below A Constellation dispels anxiety and feelings, the first of the compositions complementing the album with a vocal part. Unsurfacing completes the album with the mystery of obscure thoughtfulness, complementing it with an unhurried piano solo at the end.