October 13, 2021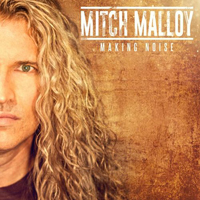 Bright, rapidly and vigorously the Rock-N-Roll song begins musical narrative of the Mitch Malloy - Making Noise album, nervous waves of inspiration and energy. The sound of the My Therapy composition seminates the musical pace and complements the sound of thoughtful pain, walled musical passssges with background keyboards.
Leisurely and thoughtfully, the One Way song puts forward the vocal on the front of the sound. The Speak Of The Devil composition continues the procession in a leisurely musical pace, following a stubborn rhythmic march.
But the sound of the Shook song is being swift in the vortex of an emergic mid-tempo drive, topped with a bright keyboards inspiration. The It's Just A Word melodic ballad enchants a romantic atmosphere and creates sensory memories. The Alone composition returns again to the inspired procession of the mid-tempo drive.
The sound of the I Was Wrong melodic ballad enchants with thoughtfulness and a romantic atmosphere with shades of light adolescence. The music of the Life Has Just Begun composition combines the energy of a discreet drive, the penetrated waves with rhythmic tunes of the main motive with the ballad mood of emotional vocal appeals. The Making Noise title track completes tha album.