May 18, 2017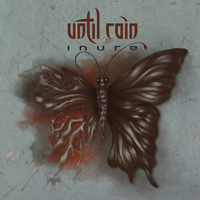 Variety, changeability and a variety of different images and images have embodied in Until Rain - Inure album!
Vortexes of musical refinements Progressus In Idem are circling in a changeable atmosphere, combining romance and power. Vocals entering envelops the unfamiliar and zealously exalts the surrounding delights.
Ragged, broken rhythm accompanies gentle guitar and keyboards passages in New World Fiction, followed by vocal disputes and doubts.
The power comes to the fore, not hastily and restrainedly introducing its influence into the changeable broken rhythms of Because Something Might Happen. Vocals raise its tone over the surrounding darkness, then demonic growling overcomes for a bit.
Starting with the emotional confession of gentle and touching vocals, This Fear becomes so exciting and beautiful ballad.
So charming and touching musical image Tearful Farewell encompasses on all sides the charm of instrumental frills and the soft tenderness of vocal phrases.
Wonderful, extravagant and original instrumental improvisations, which constitute a vivid introduction This Solitude have replaced by sharp and jerky phrases of harsh vocals. Then the vocal styles compete in their influence, enveloped in the atmosphere of so wonderful musical canvas!
Mysterious and original musical moves succeeds in Butterfly Invasion each other again and again, the vocals use harsh and pure, combining and combining them in the charming musical image Stunningly gentle and sensual ballad Broken Wing will not leave anyone indifferent, I'm sure of it!
The title track Inure begins as a soft, muffled ballad, appealing to emotional experiences, wisdom and experience. Then the music music hardens, then vocals turning from soft muffled low-key broadcasting into furious and fierce harsh for a bit. In this long, varied and significant saga everyone will hear his own and will perceive it in his.
Debate (Bonus Track) completes the album with a mysterious atmospheric narrative that carries away into the space of dreams and fantasies.