December 08, 2020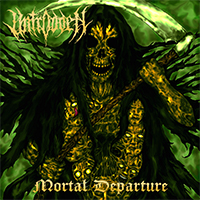 The Invocation instrumental saga with echoes of medieval fairy tales enchants with echoes of mystical memories. But then the bass guitar accentuates its influence on the Die in Obscurity musical structure, combining in dance with guitar passages, complementing the vocal emotions of the continuation of the Untrodden - Mortal Departure album with musical additions with the progressive mystery of the rhythmic essence. The Suffering of the Mind rolls rhythmically and impatiently with the intro, then raising the banners of epic celebration, but returning with the vocal intro to the rhythmic march.
The pulsating preparation of anger and rage in the Barbaric Wisdom introduction ends with vocal emotions embodying the given mood to the fullest. Anger and rage soars up with a furious musical cover of drive, but with the Eyes of Doom introduction of vocals it turns to a medium tempo, forcing the procession of a rhythmic march. The Demonic Possession seems to continue the sound of the previous composition, enveloping in a mystical haze of obscure twilight mystery.
Soaring up in the battle dance of intro, the Battlegrounds then continues the musical narration with a medium-tempo battle march with progressive elements of rhythmic fracture. Rushing into a fast-paced race of frantic drive the Undead State (Separate the Fools) surges into unrestrained whirlwinds of guitar twists. The Departure puts the final point on the album with instrumental symphonic reflections.