January 10, 2018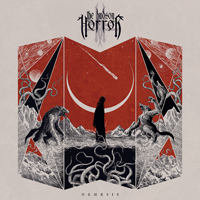 Proudly and majestically, the What the Moon Brings intro unrolls the path in front of the majestic parts, then the music pushes the restrained waves of violent mood, but in bridge, the vocals replace the stylistics, changing from growling to screaming while starting The Hudson Horror - Nemesis album's music.
The uncontrollable impetuous stream of impulsive vocal phrases alternating screaming with growling styles carries Visions of Disgust away in a reckless race for invisible goals and imaginary graces. But in the middle of the composition the music is transformed first into a rhythmic rolling march, then into pulsating reflections. But the composition ends with the same impetuous drive.
Legends and epic exhortations The Ophidian Resurrection combines with grim powerful drive that unites the vocal parts of screaming and growling in a single musical image. Then the vocals come to the fore, the musical passages vortex curl around the vocal phrases, the composition ends with symphonic orchestration.
Rolling a musical wave slowly, along with the vocals from different directions, supporting the Wolf's Blood musical outline with screaming and growling, rushes into the hurried race of the verse, lifting the melodic chalice of the chorus. After the chorus, a significant rhythmic march leads to a bright and majestic instrumental saga, which brings the composition to the final musical frenzy.
Starting with a soft and lyrical motif, spreading an epic pensive atmosphere, Anathema rejects the staggering, preferring its rhythmic power, crowned with melodic guitar passages.
Gloomy passages vortex hovering in the courtroom where the prosecutor fiery speeches treats Heretic, musical passages very clearly and uniquely creates an unforgettable atmosphere for this process.
Powerful and brutal grosling phrases wanders a dark ball with nervous screaming speeches, followed by pulsating rhythmic beats and a delightful instrumental solo in which guitars compete in improvisations.
In the second half of the album, musical decisions become complex, progressive and unique in their unique sound. So, the title track Nemesis completing the album before the introduction of vocal improvises in every way, testing the tastes and aspirations of listeners. However, vocals do not dispel these enchanting instrumental delights, only complements them and makes them even more unforgettably spectacular and superbly realized.