May 31, 2017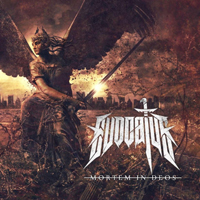 From the ancient ruins, the eternal ashes and dust of the prehistoric generations, legends arise that foreshadow Evocatus - Mortem In Deos , the death of the gods!
Rain noise, soft dreamy melodies of piano passages combines with symphonic background in the The Sins Of A Mortal introduction.
After the powerful, viscous and addictive intro, Immortal Chains captivates in a fast driving rush, hurriedly and abruptly flashing emotional vocal phrases of enthusiastic growling vocals. Then the rhythm accelerates its pace, increasing the tempo and sharpness of the vocal turns.
Title track Mortem In Deos continues to alternate violent, rigid and driving pieces, decorating them with the ornamentation of melodic instrumental tunes and inspired vocals chants.
The noise of helicopter propellers, explosions of bombs, and the rumbling of gun bursts precedes viscous, assertive haze of guitar riffs that confuses Tour Of Duty in their florid outlines, enveloping vocal phrases with ingenious sparkling variability.
The epic saga The Fall Of Odin begins with so persistent urgehammering with an inexorable melody, followed by a swift drive and a frenzied jerk. Violent, powerful rhythmic beats drive the pillars of the universe into the earth's firmament, giving the power of divine opposition to the perishable earth. In the alternation of the confident, unyielding legend and impetuous drive, narration of this tale occurs.
The ragged, changeable, complex and varied rhythmic patterns of Blood Of The Nile captures with the mythological images into the kaleidoscope, shuffling cards with their images of various colors in so unimaginable order, in so elusive manner. It's not easy to follow the variety of changeable melodies - therefore I will listen to this song again and again... again and again!
The epic saga Der Erlkonig begins as powerful, confident ballad, solemnly paying honor to the legendary heroes. Then the thoughtful, clean vocals appeal to the memories of ancient tales, but once again the solemn saga rhythmically and confidently uprises the proud banner over the confident march of its musical images.
Cracking the branches in a burning fire, gentle guitar breaks in the instrumental As The Sun Sets preludes the final song of the album. A Red Sun Rises continues epic and solemn musical saga in a similar manner, complementing hasteless stories rapid rushes of vigorous drive 'till the end of entire album.