July 12, 2021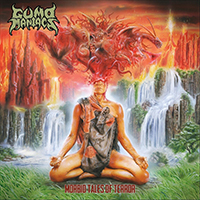 The rapidly quick and unrestrained drive of the Bloodportals intro is somewhat constrained by emotional vocal phrases. The Last Man Standing composition continues the GumoManiacs - Morbid Tales Of Terror album's musical narration, deriving a vocal part to the forefront of the musical image.
The Legions Of Death song continues the musical procession with a harsh and significant mid-tempo march, as if this terrible squad marches to the last battle, Of Warlords And Vengeance seems to continue the previous composition, whimping the vocal part with the whirlwind of guitar riffs. The Architect marchs a significant and majestic march of a significant anthem, The vocal party is a pensive speech of a singing lady.
The Morbid Tales Of Terror title track varies the tempo and musical style by offering vocal phrases at the crests of waves of music. Guitar solo of the instrumental part is charming with so artistic melodic sound. The Asmodeus accelerates the pace, varying the dominance of vocals in verses and choruses with mystical charm of guitar solo of instrumental bridges. Returning to the sound of the mid-tempo march, the For A Greater Cause song combines vocal emotionality with a close to the ballad musical sound.
Returning again to the vortex of the irrepressible drive, the Chamber Of Souls composition combines vocals and music in mutual consideration. Wolves howling at the intro anticipate the development of the Valley Of Wolves song on the verge between the midtempo and unrestrained impetuosity musical tempo. The Brimstone Baptism completes the album by varying the tempo in addition to mystical background speeches.