May 16, 2017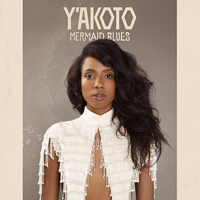 In the splashes of the waves, crashing against the coastal cliffs, sounds charming Y'Akoto - Mermaid Blues, , encompassing with its sound all conceivable and unthinkable.
Thoughtful romance envelops the question, addressed to the one who dared Fool Me Once - whether he will repeat this muck again and again or not? Will - let him know what awaits him and everyone around him.
Rhythmically, clearly leisurely immerses us Take Him Back into the atmosphere of his sound, confidently, but unobtrusively immersing all around in its sound image.
Playfully, cheerfully and energetically All I Want (Comme Ci, Comme Ca) pushes for unrestrained and relentless activity, circling in its bright dance around.
So confident, persevering and uncontested motif creeps slowly, painstakingly and comprehensively, demand to Love Me Harder accumulates emotions in a single image, creating transcendental fantasies and phantom dreams.
Country-style ballad Maggie returns the feeling of native land, father's home and homeland.
The feeling of inadequate activity, the desire to explode in the storm of activity and decisive actions creates in the quiet and restrained Reception musical image the selectivity and originality of each perception.
Dreamy, pensive ballad We Walk The Line, in which comes to the fore the story, spelled out by vocal phrases and keyboards passages.
Unhurried dreams, doubts and suggestions Drink My Friend are hovering in the ghostly haze of imaginary shadows, whirling in the whims of the soul Light inspiration bursts with a fresh, renewing wind of Who I Am question, combins exciting melody, sublime guitar and keyboard motifs and a pensive, slightly sad vocal unite in the single musical stream.
A thoughtful, soulful and calm ballad Sunday makes impressions about the past and future life.
An inspirational, emotional and impressive story about King Of The Dark completes the album with its charming sounding.