May 19, 2018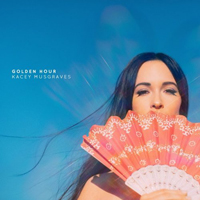 So soft guitar fingering accompanies the inspired reflections Slow Burn that begin the Kacey Musgraves - Golden Hour album with memories of the most pleasant moments of the birthplace, home-sweet home.
Immediately showing the main motive Lonely Weekend is prized by its sounding, somewhat hiding in verses and revealing in choruses fully and comprehensively. Dancing in a playful mood, in joyful attempts to catch Butterflies and keep the flying charm forever. Oh, What A World leads playfulness and entertainment into the illusory distances, pronouncing in distorted voices, but then the singing lady returns the amusements to the usual forms.
A brief Mother confession rejects playfulness and entertainment, enveloping pensive vocal phrases with the tender piano notes. Love Is A Wild Thing continues the mood of the previous composition, supplementing the reflections with encouraging passages, but again and again carried away in sad reflections into unknown spaces.
Once wives accompanied their husbands on the road - saying soldiers, sailors, traders and pilgrims goodbye, hoping to meet again. But in the future, wanderings will expand the horizon - Space Cowboy will graze their flocks not only on the prairies, but also in space expanses.
Resting from wandering and thinking Happy & Sad creates a cozy and relaxed atmosphere, next track cardinally changes the mood, music dances with a playful dance - the vocals bring waves of nostalgia, realizing - Velvet Elvis is not what it was once.
Wonder Woman weaves together playfulness, hope and tranquility, creating a calming and enchanting atmosphere - inspiring and supportive in any activity.
It's like getting off at the disco High Horse brings the waves of a cheerful drive, the rhythm and drives you to dance and entertain, bringing the disco atmosphere of the 80s.
The title track Golden Hour envelops the pensive atmosphere, accentuating the rhythm of the musical narrative, dopnaya sounding a wave of inspiration and positive in vocal phrases. The album ends with an incredibly calm romance Rainbow, where the keyboards passages predominate, gently and carefully shading vocal reflections.